Easter Services at CrossPointe

We have several options at CrossPointe for you and your family to celebrate Easter Sunday with us. We hope to see you at one or all of our services!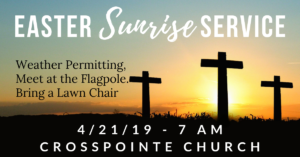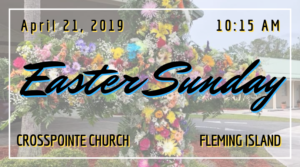 Join us at the Family Place for our Sunrise Service at 7 AM on April 21st. Weather Permitting, we will meet outside at the flagpole. We will have music and a message. Please bring a lawn chair. If you don't have one, we will also have some chairs available for you.
Starting at 8 AM, we will have free family photo opportunities available at the Easter Flower Cross out in front of the sanctuary. Bring your whole family and have our photographer capture everyone in their Easter outfits.
Also starting at 8 AM, we will have refreshments served in the Lobby in front of the sanctuary.
At the 10:15 Service we will have music led by our Praise Team and Band and a message brought by our Pastor, Brother Ron Baker. Childcare and Children's Church is available for children from birth to 6th grade.
Nursery-Kindergarten age childcare check-in is in the Gymnasium behind the Worship Center and 1st-6th grade check-in is in the Children's Church building next to the worship center. We have signage around the campus to point you in the right direction, but feel free to ask for help if you need some guidance.
WELCOME TO CROSSPOINTE CHURCH
We are:
a family of believers in Jesus Christ
seeking to connect to God, to others and to the world
all in different stages in our journey of faith, so come as you are
Our worship service:
is a blended style of worship focused on praising God, led by a full band, relevant for everyone
has a relaxed atmosphere, and casual attire
has preschool and childcare available for children birth through 6th grade
Our Schedule:
9:00 am Bible Study for all ages, children and adults.
10:15 am Praise and Worship Service in the worship center, Children's church for nursery through 6th grade.
6:00 pm Praise and Worship Service in the worship center, Youth Group, and Children's Choir Rehearsal.
10:00 am Ladies Bible Study in the Youth Room
6:30 pm Praise Team and Praise Band rehearsal in the worship center
6:30 pm Praise and Worship Service in the worship center, Youth Group, and Children's Olympian's Word of Life Groups.
Therefore, we are ambassadors for Christ, God making his appeal through us. We implore you on behalf of Christ, be reconciled to God.
II Corinthians 5:20
At CrossPointe Church we have different ministries to meet the needs of our church family. There are short-term ministry projects like Vacation Bible School/Day Camp or a community clean up day, and we also have on-going ministry groups like our weekly Bible study groups.
You are welcome to join at any time. There are groups for everyone-any age, any experience! All are welcome!
Check out our ministry groups and see what is happening here for you!
PRESCHOOL
The Preschool Ministry exists for children from birth to Kindergarten to experience age appropriate Bible teaching from experienced teachers who love preschoolers. Leaders are here to help build spiritual foundations in your child's life. We want parents to participate in Bible Studies and worship services with a peace of mind, knowing their children are cared for in a safe and secure setting.
CHILDREN
The CrossPointe Children's Ministry is built around relationships. Our trained leaders work to develop a relationship with each child that walks in our doors. We also encourage our children to develop friendships with each other through our teaching and fellowship times. The goal of our ministry is to help each child develop and grow into a saving knowledge and faith in Jesus Christ as their personal Lord and Savior.
YOUTH MINISTRY
The Youth Ministry is for grades 7th – 12th. Our focus is connecting students to one another and connecting them to God through Bible Study and Fellowship. We meet Sunday mornings at 9am, Sunday Evenings at 6pm, and Wednesday evenings at 6:30pm in the Youth Room. For more info, contact our Youth Director, Joe Peters.
YOUNG ADULTS
The Young Adults Ministry is for ages 18 to 20-something. We aim to create a Christ-centered community for our young adults to stay connected to each other and to God through the challenges of learning how to adult. We meet Sunday Mornings at 9am in the Choir Room for Bible Study. Right now our study is on 'Making Space' for the important things in life. For more info or to get involved, send the Byrds an
email
.
SENIOR SAINTS
Our Senior Saints (ages 50+) meet the last Thursday of every month to fellowship at 6:00 PM. The Senior Saints have a great time and would love to have you join them for their next event. If you have questions, please contact Flo or Ron Robertson.
PRAISE TEAM
The Praise Team is made up of singers, musicians, song-writers, and audio, lighting, and video technicians of all skill levels. We meet on Tuesday nights in the Worship Center at 6:30PM to practice for Sunday mornings. Even if you don't feel comfortable being on stage, please join us for practice and fellowship on Tuesday nights!
Connect with us! Scroll down to see what's coming up!
If you're 50 years old or better, you're invited to join the Senior Saints ministry at this month's event, a Valentine's Day Themed Lunch! They will be meeting February, 17th at 12:00 PM in the Gym. Join us for food, fun, and fellowship. It will be a great time with a devotion and lovely music. The church will provide the meat, but please bring a covered dish! Sign up in the lobby! Click here for the
Facebook Event Page
!
Read more...
---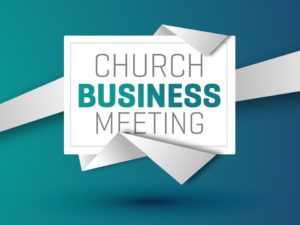 Third Sunday of Each Month – Finance Committee Meeting
Fourth Sunday of Each Month – Church Council Meeting