Children's Ministry, Grades 1-6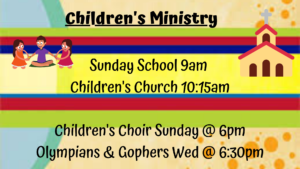 Our Children's Ministry at CrossPointe Church is built around and upon relationships.
Our trained leaders work to develop a relationship with each child that walks in our doors. Relationships between our children are encouraged through our teaching and fellowship times.This is the overall goal of our ministry: to help each child develop and grow into a saving knowledge and faith in Jesus Christ as their personal Lord and Savior.
Curriculum used in our children's ministry is Bible based and is age appropriate. Our children's ministry workers love teaching children and it shows! We invite children grades 1-6 to come be a part of our children's ministry at CrossPointe Church where "IT'S ALL ABOUT HIM!"
Our children's Bible study groups and Children's Church meet in the 400 building. Check-in is in room 401. The area is carefully monitored for safety and each child is checked in and out of activities using our security system.
Kingdom Kids Children's Choir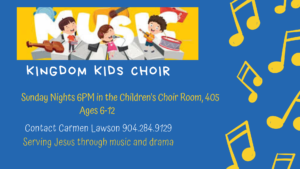 The CrossPointe Children's Choir meets to rehearse Sunday nights from 6:00 PM to 7:00 PM. The Choir is for children ages 6-12
Let's give praise, our Children put on a great Christmas Program and worked hard to let us know that Jesus is the Reason for the Season! Over the next several weeks our children will be taking a break from choir before they begin on their next special program. If you have questions please contact Carmen Lawson at 904.284.9129.