Senior Saints Ministry (Age 50+)
The Senior Saints Group meets the 4th Thursday of each month in the Church's Fellowship hall at 6:00 PM. Sometimes we change the date to coincide with special days such as Valentine's Day, Thanksgiving, ETC. Senior Saints is for those 50 and above, and we have a great time of sharing food, fun and fellowship. We normally have a pot luck meal together, a short devotion and some special music. In addition we recognize those who have celebrated birthdays and anniversaries during the month. Come join us for a great time!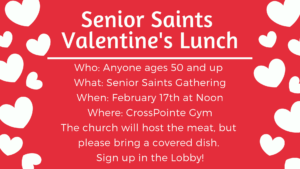 If you're 50 years old or better, you're invited to join the Senior Saints ministry at this month's event, a Valentine's Day Themed Lunch! They will be meeting
February, 17th at 12:00 PM
in the Fellowship Hall/Gym. Join us for food, fun, and fellowship. It will be a great time with a devotion and lovely music. The church will provide the meat, but please bring a covered dish! Sign up in the lobby! Click here to view the
Facebook event
.