Vacation Bible School 2019!
June 9 – 13, 2019 from 7:00 pm to 9:00 pm.
CrossPointe VBS will take place June 9th-13th from 7 PM to 9 PM each night. We will have music, crafts, Bible stories, games, and of course, snacks! Please register using the registration link below for this FREE event! Check out the event on Facebook to ask any questions or see more information.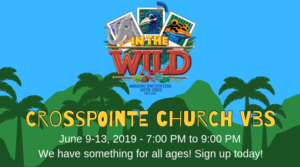 Please be sure to fill out information for each child that will be attending.
VBS Information
Nursery through Kindergarten (Birth – Age 5)
Children through age 5 should be checked in at and picked up from the nursery area in the Gymnasium behind the Sanctuary.
Children (Ages 6 – 6th grade)
Children ages 6 through 6th grade should be checked in and picked up from the Sanctuary.
Youth (7th-12th grade)
Youth Students should check in and out in the Sanctuary.
Adults that have children participating in VBS should check them in at the locations listed above, by their age.
The adult class is titled "Men are Like Waffles, Women are like Spaghetti" and will be taught by Brother Ron and held in the 500 Building. Check out the event on Facebook for more info or to ask questions!