Connect with us! Scroll down to see what's coming up!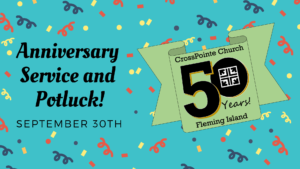 Sunday, September 30th, please join us for our 50th Anniversary Celebration Service! We will have our regularly scheduled worship service at 10:15 am with music led by our Praise Team and Brother Ron Baker bringing the word. During the service, we will partake in the Lord's Supper and take up a benevolence offering. After the service, please stick around for the Pot Luck Fellowship! Please contact Grace Duckworth if you are able to help.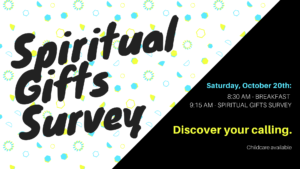 Saturday, October 20th, join us in the Gym/Fellowship Hall to discover your spiritual gifts alongside your church family. Breakfast will be provided starting at 8:30 AM and the Spiritual Gifts Survey will begin at 9:15 AM. Childcare is available, so bring the whole family!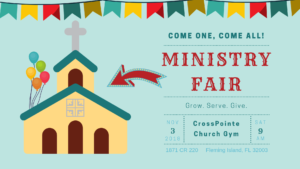 Saturday, November 3rd, come find your place to serve at the CrossPointe Ministry Fair. We need your help to continue to do God's work at CrossPointe. We will have booths set up for different ministry areas so you can learn more about each ministry, and find the place you can serve that will best use your gifts. The fair will be held from 9 AM to noon.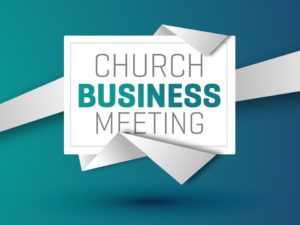 September 23rd – Church Council Meeting
October 21st – Finance Committee Meeting