Grow like Mary and Martha
At CrossPointe Church we have a Women's Ministry out of a desire to see our women grow and develop in their relationships with Christ and each other.
Purpose:
To equip women to grow like Mary and Martha
Like Mary, practice devotion to our Lord
Like Martha, practice hospitality to others
Develop meaningful relationships with our sisters in Christ
Events:
We will have quarterly brunches where we will share food, fellowship and fun. The next brunch is Nov. 2nd at 10:30 am in the Fellowship Hall. Please bring a brunch dish. Sign up in the lobby.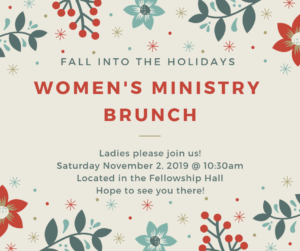 If you would like more information on this ministry, please contact Grace Duckworth at 904-718-8270 or
jldgld@gmail.com
or