Grow like Mary and Martha
At CrossPointe Church we have a Women's Ministry out of a desire to see our women grow and develop in their relationships with Christ and each other.
Purpose:
To equip women to grow like Mary and Martha
Like Mary, practice devotion to our Lord
Like Martha, practice hospitality to others
Develop meaningful relationships with our sisters in Christ
Events:
We will have quarterly brunches where we will share food, fellowship and fun. The next brunch is March 30th at 10 am in the Fellowship Hall. Please bring a brunch dish. Sign up in the lobby. Check out the Facebook event
here.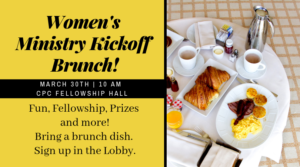 If you would like more information on this ministry, please contact Grace Duckworth at 904-718-8270 or
jldgld@gmail.com
or
Ladies are all invited to the Ladies Bible Study that takes place in the Youth Room Tuesday mornings at 10 AM. Please join with other ladies in our neighborhood for a fellowship, prayer, and Bible study each week. If you have any questions, please contact Betty Cooke at 904-264-4764.